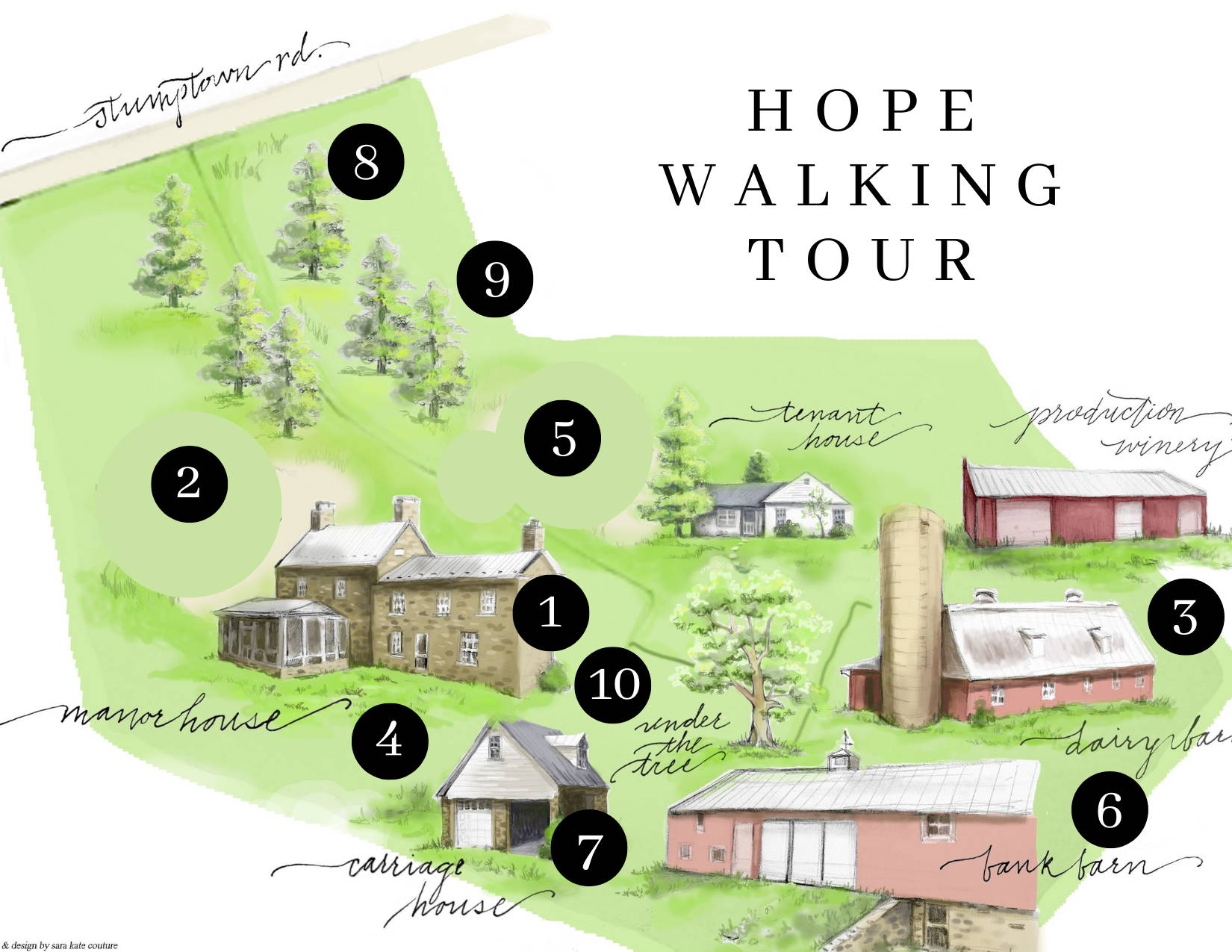 You are now looking at what we call the Manor House. A Stone Quaker house dates back to 1820! The house has three bedrooms upstairs. The Downstairs features a beautiful light and airy dining room, perfect for photoshoots and styled table scapes. Holly's favorite part of the house is the prop closet, which houses china, glassware, flatware and other items she has collected throughout the years. Though the house is not considered a BNB it houses our wedding designers on big event weekends and is the perfect place to get ready for our Hope Flower Farm brides!
Welcome to the donkey paddock. We would like to introduce you to our first pair of donkeys Love and Puff. Love our lady donkey can be recognized by the lighter coat and slimmer waste line and Puff our gentleman donkey has a lighter coat and is a bitt puffier like his name. Something you might not know is that Holly the owner of the farm has a special connection to a flower named Love in a Puff. In fact she even has a tattoo of this special seed on her wrist. For her at the beginning of her flower journey she was gifted this special seed and it has always held a great significance to the path ahead. Shortly after Love and Puff's arrival we received the news that there were two more donkeys in need of a rescue and a little Hope. In an instant we added Bitter and Sweet to our growing gardens. Bitter must be trying to contend with Puff as he is the rounder of the group. Sweet is named perfectly as she seems always content. All of these introductions would not be complete with out a formal hello to our Queen Pig Miss Piggy! Nobody could keep the farm in line better than her! We are excited to announce that the paddock will be expanding with more land and our very own barn. Feel free to take pictures of our friends, but please do not reach through our fence line, we don't want them mistaking your fingers for treats.
This is the Hope Flower Farm and Winery blueberry patch. In addition to farming, innovating, and about a bajillion other skills Hollys late husband, Evan enjoyed baking. He grew his favorite fruit, the blueberry here on the farm for his infamous blueberry cobbler. This special little berry carries great significance to the family and may even influence future cider recipes!
As you look up you may be a bit confused as to what you are actually looking at. To our knowledge it is the largest lilac tree in Loudoun County. Lilac's can grow anywhere from 12-15' tall and 10-12' wide and can live for over 50 years! When Holly was a new floral designer she used to clip Lilac's from her home property to take with her every year to the Leesburg Flower and Garden show. Holly has been a participating vendor in that show for 25 years and always makes sure to arrive with lilacs in hand.
Welcome to our cutting flower garden. In our opinion every property should have one. The purpose of a cutting garden is for productivity and pleasure. The beds are planted wide to make it easy to maintain and harvest. Our cutting garden will change as the seasons do. Today you will find a range of Zinnias, Cosmos, Dahlia, Salvia's those can be recognized by long brush like stems in pink and purple. Salvia attracts butterflies and pollinators so you may see some of that activity in the garden during your visit. Another unique looking bloom is the Celosia which can grow in an array of vibrant colors. If you visit the estate beds you will see another type of Celosia called cockscomb that produces broad and large blooms that resemble sea coral. If these flowers look too good to pass up, by all means be our guest. Head to the carriage house for an opportunity to receive a quick lesson, some snips, and a container so that you can take some of Hope's flowers home with you.
Here is one of the examples of Hope's estate beds. During the summer months you will find a variety of different blooms such as Cosmos, Zinnias, Black Eyed Susans, Lisianthus, Cockscomb, Celosia, Gomphrena, Marigolds, and Saliva. Here are some pointers to help you identify them. Cosmos are a stemmy bloom with light fluttery pedals, Cockscomb is a stand out stem as it has a unique almost sea coral like bloom. Gomphrena has a gum ball like center you can see it in our beds in a beautiful magenta tone. Gomphrena actually floats in liquid and is also edible, although we would appreciate it you don't eat ours.
The estate and dairy farm was originally knows as Strawberry Veil and was farmed by the Hope family for more than 60 years. The gift shop that you are currently looking at used to be used as a carriage house. The stone work of the carriage house dates all the way back to 1820. When Holly and Evan purchased the farm they chose to rename it to Hope to honor the family that had devoted their lives to the care and cultivation of this property. Hope strives to serve her community by inspiring those to come as well, as be good stewards to the foundation that had been planted for them to enjoy today.
Welcome to the Dahlia patch, we appreciate you making the walk out this way. Up and down you will see our Dahlia Patch first planted by Evan Chapple. Dahlias are not only a bright and vibrant flower but they have significant meaning. In the Victorian era Dahlias were a symbol of commitment and everlasting union. Dahlias were often used for this symbolism in wedding ceremonies.Depending on where you live Dahlias can bloom 3-4 months of the year, but not with out careful care and attention. Looking to the left you will see our Peony Patch quietly resting until the spring months when they are bursting with color. Be sure to join us for Peony Day next spring!
One of the more significant places on the property is the Chapple family Oak Grove. As you look around you will find nine baby trees aligned with purpose. In honor of Holly's late husband Evan who gave so much to the property of Hope, Holly and her children planted trees. As they grow and mature they will provide cool place to enjoy the land and dream of the future the very way Evan did for his family and his farm. The location of the grove is also the single best spot on the farm for catching the one of a kind sunsets.
You may notice this unique looking piece of farming equipment and wonder why it is here. This is called a disc plow. It is used to cut and pitch the soil, to improve the conditions for planting. The disc plow that you see featured here belonged to Holly's father Albert. This plow was used on the family property also located in Loudoun County, and not too far from Hope! Holly's dedication to the preservation of land and craftsmanship stems from her father, and this disc plow acts a constant reminder here at Hope.